Barcelona is on everyone's list of been-there's or must-see's. It's no surprise. This is a tremendously diverse and bustling city where you need to go to without a plan and just hang around. Options are numerous, the atmosphere is great and so is the weather. There is only one downside: slowly this city is getting overwhelmed by tourists which is annoying many local residents. Also you need to prebook all the famous hotspots you want to visit if you don't want to spend the whole day lining up. I decided to take my chances and went without a pre-fixed schedule.
Barcelona is Gaudí, there is no way to be or remain ignorant of this fact. When checking in at the hotel, the man at the reception gave me a city map with the Gaudí sites already marked as if that was the only purpose for my trip. Even if you are not into culture or architecture you will be amazed by his work, mostly by the creative and imaginative character of it. He designed buildings, sculptures and gardens in a modernist style, combining Catalan patriotic tradition with innovative technical solutions. The genius of Gaudí is mostly expressed by his masterpiece the Sagrada Familia. Even unfinished, this church – as technically speaking it is not a cathedral – is a stunning piece of work. Although somewhat spaceship-like and seemingly made of sand, you need to take your time and watch the tons of symbolism.
Casa Batlló 'House of Bones' is another one of Gaudí's unique works. It is a fairytale building with lots of colours and a facade with skeletal shapes. Casa Milà was Gaudí's last civil work in which he tried to recreate natural flows with bricks and mortar. It looks like a building creeping around a corner.
Both Casa Batlló and Casa Milà are situated on Passeig de Gràcia, a glamorous avenue in the city centre. Besides these famous houses and the many exclusive shops, you should definitely look up to spot the other stunning pieces of modernist architecture. The benches and lampposts are wonderful, they are called benches-lamps as they are actually one and the same artistic element.
According to National Geographic, Barcelona is the number one beach city, leaving Cape Town and Honolulu in second and third place. The white-sand beaches are close to the city centre and are easily accessible. On a hot day you can mix a city break with a sandy break and have a cool drink in one of the many beach bars and clubs. I did some serious beach bumming on Barceloneta beach, one of the oldest and most popular beaches, located in the traditional fishing district.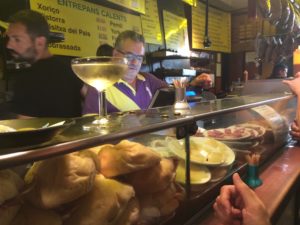 Although tapas are meant as small portions of food, served in between meals and to go with some wine or beer, restaurants will serve them all day as this is what most tourists expect. The best tapas are often served standing in a crowdy bar. It takes some courage not to feel intimidated and to go straight up to the bar and order your portion of tapas. Often they are displayed in glass cabinets so just pointing at what you want will also do. Whilst eating tapas you can sip a glass of cava or vermouth. On a sunny afternoon I ended up at La Champagneria Cava Bar. I nearly missed it as it is really tucked away in an anonymous side street. It is a great place to have a cheap overfilled glass of cava and a greasy pork sandwich. It's not top-healthy stuff but it tastes good. Although very well known and busy it still has a magnificent authenticity. It is loud, messy but brilliant. To avoid people getting too drunk they have a rule that says you need to order food to go with your cava. Hilarious !
Maybe it's because of the crowds but I was not so much enchanted by the Ramblas Promenade. It is the number one attraction in Barcelona, a pedestrian tree-lined boulevard cutting right through the heart of the city. Being too much of a tourist magnet for me I quickly left the main street for the Gothic Quarter. This is a lively district with small streets and nice squares, from the tiny Plaça del Pi to the Plaça Reial, a pretty arcaded square with palmtrees.
Barcelona is a city you will end up visiting more than once. At least that's how it feels for me. Spending a few days here does not require a huge travel budget. I will be back and I will behave like a good tourist, spending my money on a nice hotel rather than renting a local flat or staying at some Airbnb, to make sure they still want me there. And perhaps next time I will make these reservations upfront to visit more of Gaudi's work.
I visited Barcelona in September 2016.
I stayed at Catalonia Passeig de Garcia hotel, near Plaza de Catalunya